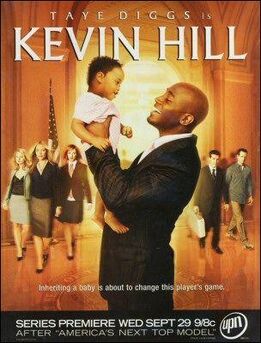 Kevin Hill was a UPN network drama series created by Jorge A. Reyes that starred Taye Diggs in the title role.
The show premiered on September 29, 2004. Other cast members included Jon Seda, Patrick Breen, Christina Hendricks, Kate Levering, Michael Michele and Meaghan Good.
Even though "Kevin Hill" was critically acclaimed, the ratings did not fare well and on May 18, 2005, it was cancelled after one season & 22 episodes.
The series stars Taye Diggs as the title character, a lawyer who has to balance his professional career and his love life with having custody of Sarah, his 10-month-old cousin (his late cousin's daughter).
The season ended on a cliff hanger when the biological mother returned to demand Sarah back.
Taye Diggs as Kevin Hill
Jon Seda as Damian "Dame" Ruiz
Patrick Breen as George Weiss
Christina Hendricks as Nicolette Raye
Kate Levering as Veronica Carter
Michael Michele as Jessie Grey
Meagan Good as Melanie West
Ad blocker interference detected!
Wikia is a free-to-use site that makes money from advertising. We have a modified experience for viewers using ad blockers

Wikia is not accessible if you've made further modifications. Remove the custom ad blocker rule(s) and the page will load as expected.