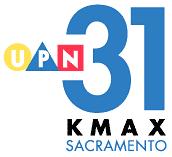 KMAX-TV, channel 31, was the former UPN affiliate serving the Sacramento-Stockton-Modesto, California broadcast area. The station is owned by CBS Television Stations along with the local CBS station, KOVR; the two stations are two of the 3 English network O&Os in the market, along with Ion Television affiliate KSPX-TV. It is known on the air as "UPN 31, Cable 12".
Children's Programming Schedules
Edit
1997-1998 season
Edit
2:00 PM - Mr. Men
2:30 PM - DuckTales
3:00 PM - Mighty Ducks (Mon-Tues) Quack Pack (Wed-Fri)
3:30 PM - 101 Dalmatians
1998-1999 season
Edit
2:00 PM - DuckTales (Mon-Wed) Voltron: The Third Dimension (Thurs) War Planets (Fri)
2:30 PM - Hercules
3:00 PM - Pokemon
3:30 PM - Doug
Ad blocker interference detected!
Wikia is a free-to-use site that makes money from advertising. We have a modified experience for viewers using ad blockers

Wikia is not accessible if you've made further modifications. Remove the custom ad blocker rule(s) and the page will load as expected.